8:00PM
(Doors:

7:00PM

)
$25.00 - $44.00
Ages 21 and Up
This show is at Belly Up
143 S. Cedros Ave, Solana Beach, CA
Genre: funk
Ticket Price: $25 advanced / $25 day of show / $44 reserved loft seating (available over the phone 858-481-8140 or in person at our box office) (seating chart / virtual venue tour)

Not on the e-mail list for Venue Presales? Sign Up to be a Belly Up VIP and you will never miss a chance to grab tickets before they go on sale to the general public again!
There are No Refunds or Exchanges on tickets once purchased.
All Times and Supporting Acts are subject to change.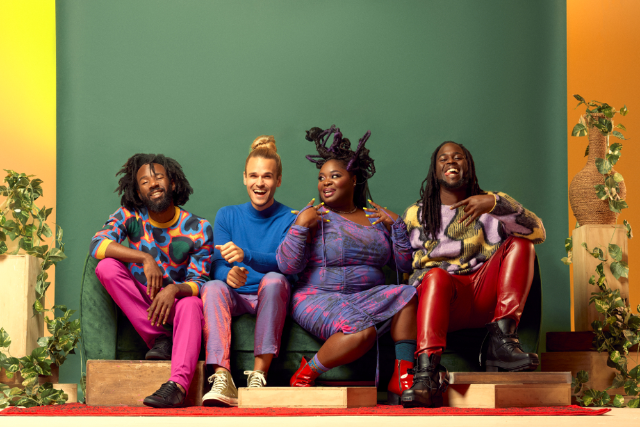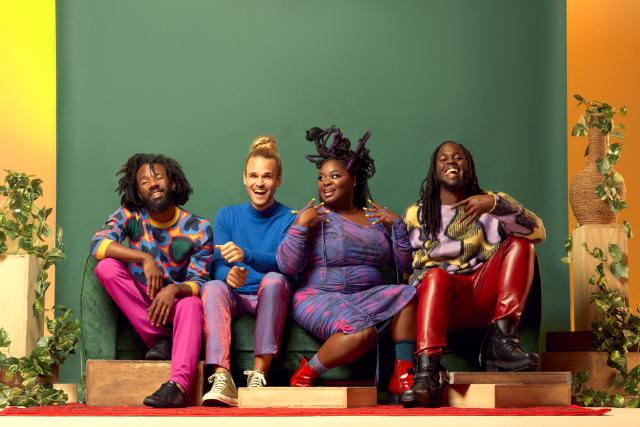 Tank and The Bangas
Tank and The Bangas don't go anywhere quietly. Sitting around a dimly lit room in London's neighborhood of Camden Town, vocalist Tank Ball, bassist Norman Spence, drummer Joshua Johnson and saxophonist Albert Allenback can't go mere minutes without bursting into play fights, or talking over one another, or laughing from their deepest guts. They are a beacon of life. And it's that life that you hear in their music. That's what makes this fivepiece one of the most thrilling, unpredictable and sonically diverse bands on the planet; a unit where jazz meets hip-hop, soul meets rock, and funk is the beating heart of everything they do. Their new album Green Balloon is on the horizon, and it's their first release now they're signed to major label Verve Forecast – a deal that came after they won NPR's Tiny Desk Contest in 2017, beating out hundreds of other acts. They admit that it was a moment that has entirely changed their lives. This resulting record is set to prove their pizazz and their staying power. It's everything they've worked so hard for so far.
Green Balloon is a multi-faceted title for their first full-length release since Think Tank in 2013. Think Tank was a case of throwing all their creative juices and ideas to at the wall to see what stuck. It was a DIY project. This album process was a world apart from that. "Green Balloon is a sister to Think Tank," says Tank. "Think Tank was 12, and Green Balloon is 16 and having sex. She's out there." Made in New Orleans, Los Angeles, London and Florida, the band's newfound critical acclaim and global notoriety meant they were able to call upon producers such as Jack Splash, Mark Batson, Zaytoven, Louie Lastic and Robert Glasper. Some of these names were on their bucket wishlist, others were new discoveries. "It was truly a dream to us. We're so lucky," says Tank. Green Balloon and many of its lyrical themes may seem to revolve around money and material ("money, look at all my money" starts 'Spaceships'), but it's far more complex than that. The color is explored throughout the tracks.
It's not quite a full concept album, but there are interludes and a story arc. Tank explains that in New Orleans a common phrase is "she's as green as a blade of grass". "Green is about being naïve," she explains. "You could be immature, new to life and experiences." Green is also a reference to marijuana, which is vital to the band. "Feeling high, feeling out of yourself, feeling different," she continues. Take the track "Too High," which is almost two minutes of Tank just talking about weed consumption. In terms of wealth, Tank is as interested in what it means to not have money as she is with knowing what you do with money when you've never had it. It's fitting too, that the idea of naivety pertains to the experience of Tank and The Bangas in the past few years while elevating from underground treasures to internationally renowned professionals. "It's been a learning curve and a journey," they admit. "We went to a whole different dimension."
The founding members of the band (Tank, Josh and Norman) met at an open mic night in New Orleans in 2011 called Liberation Lounge. Tank had wanted Josh to write out songs she'd already written for a poetry album. Eventually they met Albert. A family of musical lifers, none of them ever thought twice about quitting through years and years of grinding it out on local live circuits. That time gave them the best foundation for their onstage chemistry and dexterity. As a result they've been heralded the best live band in America and for good reason.
It was the NPR contest that turned their world upside down. They were already accustomed to winning competitions but they had no expectations for their entry. Their submission is an example of their need for more discipline – they did it at the very last minute. "We weren't expecting to win or not to win. We did something we thought was really cool and we thought everybody would vibe with it, but we didn't know it would change our lives. It was our moment. They picked us unanimously." They went from traveling to the likes of Chicago to play to three or four people, to touring all over the world, and getting to enjoy downtime at home in New Orleans. It led to the album-making process.
On the record, they have overcome their biggest challenges to date: deadlines, forward-planning and outsider collaboration. The reward is in the songs and their variety. "Dope Girl Magic" is a trap joint, showcasing the other side to Tank, as she raps with as many character voices as Missy Elliott or Nicki Minaj. "Ants" is dripping in soul jazz like Amy Winehouse's "Frank." "Hot Air Balloons" is a slow jam straight out of the D'Angelo school book. Tank is a former slam poet and her voice is inspired by everyone from Donny Hathaway and SWV to Nina Simone. Their biggest collective influence in the past few years has been Kendrick Lamar's To Pimp A Butterfly. "It's the best shit you've ever heard. A lot of people aren't accustomed to horns, but if you give them a tiny taste you can whet their appetite. That record brought an eclectic view to what music could be as mainstream."
Tank is lead lyricist and describes her focus on these songs as simply honesty. "Being vulnerable," she says. "I had a lot of moments on this album where it would get difficult and I would call in reinforcements, like my band members. Whenever I was in a tough spot I'd call on the guys." It's a self-reflective diary, a mixture of fun and joy, but also a catharsis while dealing with a complicated ex. "Roll out, take your bra off," she laughs, depicting her attitude to life in these songs. The creative process was often spur-of-the-moment and out of the blue. The biggest thing they learned about one another in the studio was more of a reinforcement than a revelation. They found new depths of appreciation for each others' creativity. "I'm around a bunch of freaking geniuses," says Tank.
"We're really vibe-y as a band," they explain of their approach to studio time. They'd arrive to sessions with an idea of what they wanted but it was never strict enough to derail them from jamming and going with the flow. Their songs come whenever, usually during rehearsals and sound checks. It's purely organic. "It's a puzzle and everybody needs to be there to solve it," says Tank. Their mixture of rock, funk, soul and hip-hop is unlike anything else in the ether right now, but elements are close enough to Beyonce, Frank Ocean, Flying Lotus, Kendrick, etc, that the hope is they can infiltrate the mainstream. They don't connect with the idea of genre, which is thoroughly modern in itself.
"It's like colors or something," they say. "Everything we're influenced by we don't have a problem putting on a record because we don't feel like we're stuck in one lane." Tank agrees: "When we're creating, we are creating. We never say: that sounded too blues-y, that sounded too country, that's too hip-hop. It's just that's what this feels like, so let's push that feeling to its completion, make it feel good." Tank and The Bangas are the vein of band to believe that there are only two types of music: good music, or bad music. "If it's good, it's good!" says Tank.
Despite their newfound global focus, Tank and The Bangas remain a New Orleans band at heart. New Orleans is a lawless place for creatives – there are no rules. There might be an idea of the typical Frenchmen St jazz band but to couch this band's work in that notion is to do both them and NOLA a grand disservice. "You don't need to do a certain type of music to be connected to New Orleans," says Tank. "It's in the culture, it's in the people, it's in the fact that we can all find so many common things in the streets." New Orleans champions its own, which allowed Tank and The Bangas to grow their fanbase by word of mouth and community. "That's more New Orleans than anything I've ever heard. The music in New Orleans isn't technical, it's not a bunch of fancy ass notes. It's felt and it's very passionate. It's real. That's what people get to take home."
It makes sense that the next person they have on their dream list to work with is legendary musician George Clinton. "Just putting it out there," laughs Tank. Overall, the band are no longer waiting for their own green light to get going. The green light is here, and you better believe Tank and The Bangas are ready to take flight.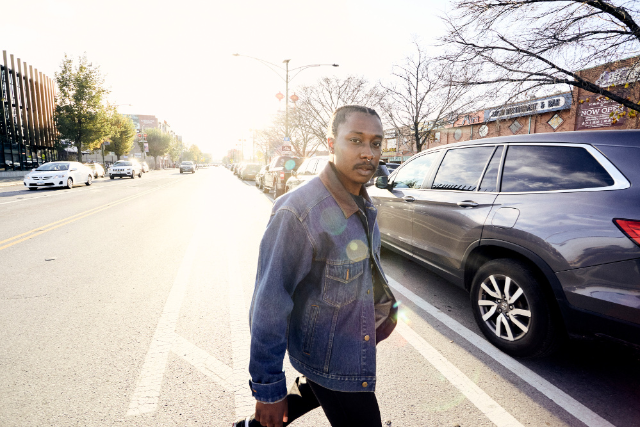 McKinley Dixon
McKinley Dixon spent much of his childhood on the move. Born in Annapolis, Maryland in 1995, he shuttled back and forth between the DMV and Jamaica, Queens, and it was those singular New York experiences that really inspired him. He felt a kinship with the borough, a place that wasn't quite home but felt more like it; the faces there looked like his in a way that just wasn't true of Maryland. "It gave me kind of this sense of longing that really jump started my thinking about escapism through music," he says.
The idea of longing and escape is central to his music, especially his forthcoming project, the ambitious Beloved! Paradise! Jazz?!, named after the trilogy of novels from Nobel laureate Toni Morrison, the writer Dixon has described as "the greatest rapper ever." Morrison's novels looked into American history to locate eruptions of longing and escape with the beautiful sweep and precision of her prose. That's the energy Dixon tries to channel on this album.
"The work of McKinley Dixon has always felt generous to me, as a listener, or how it operates as a portal," the poet and critic Hanif Abdurraqib observed. "A window into a life that is decidedly not your life, but could maybe not be far off from your life, depending on where you're from, what you know, what you haven't let go of. It could be close to a life you've touched, or a life you've missed or longed for."
Dixon was raised in a household led by his mother, who worked a double-shift job, and he found himself rising at 5:30 every morning too. "She really taught me a sense of discipline," he recalls, "and how if you want something for yourself, you have to go get it."
Musically his household was defined by "artists whose first name was Mary," including Mary J. Blige and gospel duo Mary Mary. Discovering Outkast was formative for Dixon, deepening his love for hip-hop while he also grew curious about the more theatrical rock of groups of the day, bands like My Chemical Romance and Panic! At The Disco that his Maryland friends introduced him to. "Those groups also helped me with my sense of longing, since their music reflected a sense of longing," he says. Eventually he channeled these competing influences into a debut EP he released in 2013, while attending college in Richmond, Virginia.
With time, his music became his primary means of self-expression, whether discussing Blackness or his own relationship with healing. Across his next releases—Who Taught You To Hate Yourself? (2016) and The Importance Of Self Belief (2018), his style evolved and his confidence grew, especially when it came to live instrumentation. His 2021 debut album For My Mama and Anyone Who Look Like Her was a game changer, as Dixon set his sights on heartache and grief. "I was making these really dense and chaotic songs, stuffing whatever thought I had into five and a half minutes," Dixon says of that project. Beloved! Paradise! Jazz?! is an attempt at channeling different impulses.
"With this one, I thought, 'What if I tried to keep that intensity and same denseness with shorter, catchier songs?,'" he says. After an introduction from Abdurraqib, in which he reads from Morrison's 1992 novel of friendship and Harlem, Jazz, Dixon gives the listener "Sun, I Rise." Rapping over crystalline lines from a harp, Dixon plays with the tone of his voice, sometimes rapping low and sometimes soaring to the top of his diaphragm. His lyrics are allusive, literary—and unmistakably hip-hop. It's a statement of ability, an inventory of skills. "I wanted to tell this story of a boy who's sort of a mixture of Icarus and King Midas," Dixon says. Guest vocalist Angélica Garcia gives the stand-out single another layer of depth with her pure delivery.
Elsewhere on the album he addresses restlessness and gun violence ("Run, Run, Run"), the impossible grief of losing a friend ("Tyler, Forever"), and the loneliness of talent ("Dedicated to Tar Feather"). Like the conductor of an orchestra, Dixon organizes a fleet of live instrumentation across these songs, from keys to strings to gentle bass. "I really tried to write beautiful words with every song," Dixon says, a feat that is commensurate with the beauty of the music and subject matter.
The album closes with the title track, perhaps the most gorgeous moment on the project. Doing nothing more than singing an excerpt from Morrison's bibliography, Ms. Jaylin Brown creates a hook that is indescribable in its feeling, despite consisting of just three words. Dixon's imagery—teeth, astral bodies, hands holding each other—is achingly tender.
Sometimes rough and other times delicate, Beloved! Paradise! Jazz!? is a journey into the psyche of McKinley Dixon, with all of the attendant peaks and valleys. "I'm aiming for making my stories accessible," he says, "while also still keeping it to the heart of what I love.
Genre: funk
Ticket Price: $25 advanced / $25 day of show / $44 reserved loft seating (available over the phone 858-481-8140 or in person at our box office) (seating chart / virtual venue tour)

Not on the e-mail list for Venue Presales? Sign Up to be a Belly Up VIP and you will never miss a chance to grab tickets before they go on sale to the general public again!
There are No Refunds or Exchanges on tickets once purchased.
All Times and Supporting Acts are subject to change.