8:00PM
(Doors:

7:00PM

)
$30.00 - $44.00
Ages 21 and Up
This show is at Belly Up
143 S. Cedros Ave, Solana Beach, CA
Genre: pop rock
Ticket Price: $25 advanced / $30 day of show / $44 reserved loft seating (available over the phone 858-481-8140 or in person at our box office) (seating chart / virtual venue tour)

Not on the e-mail list for Venue Presales? Sign Up to be a Belly Up VIP and you will never miss a chance to grab tickets before they go on sale to the general public again!
There are No Refunds or Exchanges on tickets once purchased.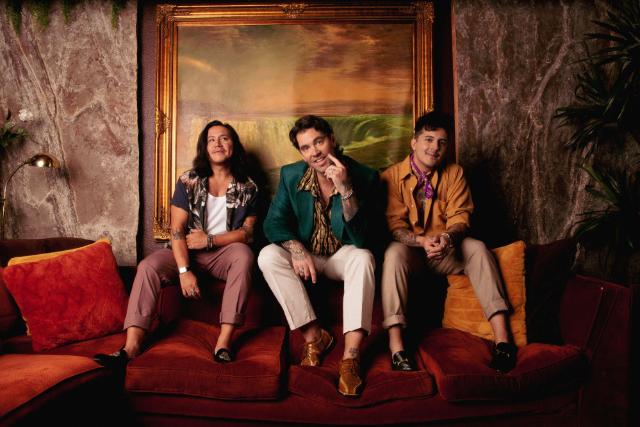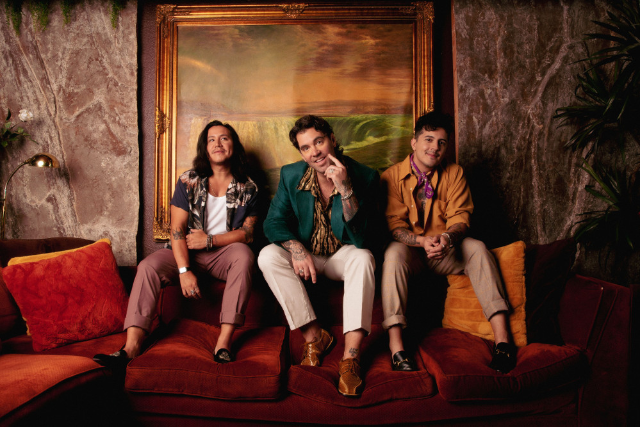 American Authors
Since releasing their debut album Oh, What a Life in 2014, New York-based pop-rock outfit American Authors have experienced milestones most bands only dream about. They've watched their music climb to the top of the charts, and seen singles go multi-platinum. They've played awards shows, hit the stages of legendary venues all over the world, and toured the world with bands such as Andy Grammar, OAR, OneRepublic, The Revivalists, and The Fray. Their anthemic hit single "Best Day of My Life" has been featured in over 600 movie trailers, TV shows, commercials, and as a theme song for the Stanley Cup Playoffs. Despite these accolades, however, lead singer Zac Barnett vows that the best day of their lives is still yet to come. "We just want to keep going," he says. "We can't wait to continue this adventure."
Originally formed in 2006 at Berklee College of Music in Boston, American Authors - Zac Barnett [vocals/guitar], Dave Rublin [bass], and Matt Sanchez [drums] - eventually dropped out of college and moved to Brooklyn to continue refining their airtight songcraft.
"My whole reason for attending Berklee College of Music was to find other like-minded musicians to start a band with. I knew I had found those people after the first night we jammed," claims Barnett.
Shortly after moving to Brooklyn, American Authors crossed paths with Shep Goodman while playing a gig in the city. Eventually signing with Goodman's production company Dirty Canvas, the band wrote and recorded "Believer" and quickly saw the track thrown into rotation on Sirius XM's Alt Nation radio. Their next song "Best Day of My Life" was featured in a commercial campaign for Lowes. Shortly after, American Authors inked a deal with Island Records.
"Boston was a great city to get our feet wet in but moving to Brooklyn completely changed our lives," drummer Matt Sanchez explains. "Constantly surrounded by so many new creatives and artists fueled our music to a whole new level."
By 2018, the guys had impressively generated over 1 billion global streams on a string of alternately striking and soaring smashes. Their inescapable and instantly recognizable breakthrough "Best Day of My Life" earned a triple-platinum certification from the RIAA and vaulted to #11 on the Billboard Hot 100 in addition to receiving countless film, television, video game, and sports syncs. Their 2014 full-length debut, Oh, What A Life, achieved gold status, while the follow-up What We Live For, spawned another Top 20 hit, "Go Big or Go Home," in 2016. Along the way, they sold out shows around the globe and ignited stages at festivals, including Lollapalooza, Firefly Music Festival, BottleRock Napa Valley, Reading Festival, and Leeds Festival, to name a few.
"I don't think anyone knew how special Best Day of My Life really was when we first wrote it," bassist Dave Rublin reflects. "It just kept snowballing from TV to commercials then one day into a number one record."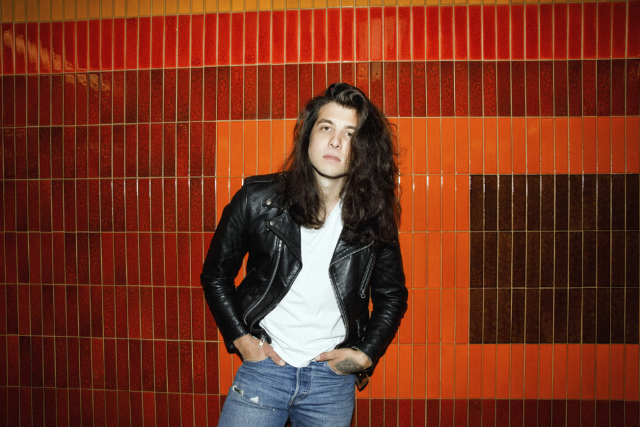 Billy Raffoul
The communion between an artist and a room full of people endures as one of the most sacred forms of
connection without comparison.
As emotion and energy transfer back-and-forth, this interchange of feelings might be the closest thing we
have to true magic in our physical world. Billy Raffoul writes music with this moment in mind. Guitar in
hand and microphone on, his voice echoes with a graceful grit that comes right from the gut as he tells
stories straight from the heart. After generating hundreds of millions of streams and earning acclaim from
American Songwriter, Paste, and more, the award-winning Ontario singer, songwriter, and producer
continues to captivate on his debut EP for Nettwerk.
"With these songs, the goal was to get them to a place where we see them on stage," he observes. "I write
music to experience sharing it with other people. We simply want to keep growing as musicians and get
more people in the room."
Music surrounded him as a kid back in his hometown of Leamington. His father Jody Raffoul rose to
prominence as a popular regional draw, performing at a prolific pace. Billy picked up his first guitar at a
young age and spent countless hours on the instrument. "Music put food on the table for my family, and
it was always there," he notes. "I don't look it at any differently than if you're dad's a lawyer and you
become a lawyer."
In ninth grade, he took the stage for the first time with a talent show rendition of "Blackbird" by The
Beatles. "I hope there's no video," he laughs. "There weren't as many cell phones back then, but it could've
been on someone's camcorder!"
During 2017, Billy made his debut with the single "Driver." Following the 1975 EP, The Running Wild EP,
and Live In June, he unveiled the full-length A Few More Hours at YYZ in 2020. The single "Acoustic"
generated over 60.7 million Spotify streams as "Easy Tiger" surpassed 19.4 million Spotify streams. The
same year, he maintained this momentum with International Hotel. Inciting widespread tastemaker
applause, American Songwriter raved, "International Hotel is the kind of album that lingers long after its
last notes fade, an incisive imprint that suggests an important new voice is here to stay," and Paste praised
his "rough-shod, whiskey-honeyed rasp." Along the way, he shared bills with everyone from Kings of Leon
and Kaleo to X Ambassadors and NEEDTOBREATHE. Reaching another level, 2021 saw him garner the
SOCAN Songwriting Prize for the single "Western Skies."
Despite the Pandemic lockdown, he focused on writing and recording as much as possible. He collaborated
with longtime creative cohort Justin Zuccato remotely and in-person (once it proved safe), piecing the EP
together over these sessions.
Now, "Better" introduces this chapter. Delicately plucked acoustic guitar underscores his grizzled delivery
as he promises, "I want to love you better."
"I initially recorded a demo of 'Better' as a sister track to 'Acoustic'," he reveals. "After a few months of
working with Justin last year, I don't know what brought the idea back to my mind. I played it for him, and
we finished the track the same day. The song had a long journey. For me, it's about treating someone with
kindness regardless of everything else. It's a simple, familiar, and feel-good song."
On its heels, he cranks up the volume on the raucous and rollicking "We Could Get High", where a
boisterous guitar riff uplifts his infectious and intoxicating chant. Upon returning to the road in the UK
post-COVID, he previewed "We Could Get High" live, and by the third chorus, the audience had joined in.
"At the time, Justin and I were writing rock 'n' roll for fun," he goes on. "It's heavily inspired by Bruce
Springsteen and my dad's music. Lyrically, it's pretty cheeky. My partner was the Prime Minister of our
high school, so that's what it's about."
Meanwhile, "Wish You Were Here" hinges on cinematic piano and soft harmonies co-written with his
brother Peter. "It's a straightforward song about losing someone," he adds. "We actually wrote it an hour
after watching Christopher Nolan's Interstellar."
Elsewhere, "Jim Carrey" nods to Eternal Sunshine of the Spotless Mind with its pensive and poetic lyrical
ruminations and eloquent songcraft.
"It focuses on the traces and residue of an old relationship," he reveals. "In the movie, it's so easy to get
your brain wiped and forget everything. Obviously, we don't live in a world like that, so we're forced to
constantly walk around memory landmines. You might see something, and you can't help but think of
someone from your past."
Over finger-snaps, "Bliss" illuminates yet another side of his artistry as he "tried to write a love song
making fun of writing a love song." Then, there's "Alligator." He sinks his teeth into a soundscape
punctuated by punchy percussion, handclaps, and an off-kilter, yet disarmingly hummable guitar melody.
"The guitar is almost spooky," he grins. "It sounds like the walls could be melting. We went to Florida for
a weekend, and it was our first time going back into the world after COVID. All of a sudden, we're in a club
with like 5,000 people having a great time. It was crazy, but I left with this 'Alligator' idea."
In the end, Billy's songs will resonate through your speakers and from the stage.
"When you come to a show for the first time, I hope you walk away feeling good," he leaves off. "If it's
your second or third time, I hope you see us evolving—even if it's slightly. Maybe you'll want to come to
a show after hearing the EP. I'm extremely fortunate to still get to do this. It's been a tough couple of
years for everyone, but I know I'm lucky to be able to go out and play."
Genre: pop rock
Ticket Price: $25 advanced / $30 day of show / $44 reserved loft seating (available over the phone 858-481-8140 or in person at our box office) (seating chart / virtual venue tour)

Not on the e-mail list for Venue Presales? Sign Up to be a Belly Up VIP and you will never miss a chance to grab tickets before they go on sale to the general public again!
There are No Refunds or Exchanges on tickets once purchased.